Turbo Light™
TLH-87W-930-S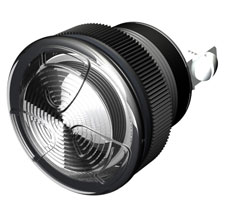 More Information
UL Recognized
RoHS Stocked
Specifications
Revision: 4.12
White Continuous Ultra Bright Output Indicator; Panel Mount Case and Quick Connect Blades with Screws Termination
Mounting:
Panel Mount
Operating Mode:
Ultra Bright White Indicator
Operating Voltage:
9-30 Vdc
Typical Operating Current:
110 mA at 9 Vdc
50 mA at 30 Vdc
Typical Brightness:
13500 cd/m2, at 9 Vdc, at 25°C
14500 cd/m2, at 30 Vdc, at 25°C
Termination:
Quick Connect Blades with Screws
Termination Strength:
Pull test with a maximum of 22 pounds (10 kg) load
Operating Temperature:
-20°C to +65°C
Storage Temperature:
-40°C to +85°C
Surge Voltage:
20% over maximum rated voltage for less than 5 minutes
Reverse Voltage Protection:
To the maximum operating voltage
Construction Materials:
Lens/Case- Translucent Polycarbonate 94 VO
Potting- 2 parts epoxy resin or silicone, black

Gasket:
Gasket (Included)– 0.125" Thick, 60 Durometer Neoprene
Environmental Durability:
ASTM B117 Certified - Withstands exposure to salt spray for 300 hours
IP 68 Certified - Withstands water submergence and dust exposure
Humidity- 95% relative humidity at +40°C continuously for 100 hours.
Vibration- Withstands vibration between 0 and 55 Hz. on all axes.

Life Expectancy:
10 years under normal operating conditions.
Warranty:
For a period of two years from the date of manufacture under normal operating conditions.
Dimensions